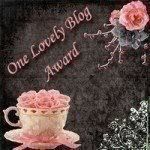 Wow. I got my first "blog award", thank you,
Mandy
! I'm so glad there is someone out there in the ether that enjoys my ideas. I'm half way through making four doodle purses, based on Mandy's idea. You can find a link in my sidebar.
"
The rules of the

'

One Lovely Blog Award

' are:
Accept the award, post it on your blog together with the name of the person who has granted the award, and his or her blog link. Pass the award to 15 other blogs that you've newly discovered. Remember to contact the bloggers to let them know they have been chosen for this award.
"
There are some amazing ladies out there that I'd like to salute. In random order, they are:
Sutton Grace
Almost Unschoolers
The Dear Diary Stories
Sparkle Power
Homespun Threads
Kneedles and Pins
A Feathered Nest
The PolkaDot Chair
While They Sleep
Amazing Mae
My Byrd House
Cluck Cluck Sew
mmmcrafts
Roots and WingsCo
inchmark journal
Please know how happy I am to both receive and give this fun award.
For those I have awarded, click on the award and it will take you to photobucket. Mouse over the image until you find the "share" button. Follow the instructions to add the picture to your blog. I hit post to website, and then cut and paste the actual html code.