I've been focused on a lot of home creating, making our new to us house feel like a home. I thought it was about time to start thinking about garment sewing, especially as I am preparing for our
Portfolio Dress Sew Along
. (Put it on your calendar...April 25-29th!)
I had bookmarked
this post on mmmcrafts
. Larissa made darling skirts for her girls, based on the
Lazy Days Skirt by Oliver + S
, with a more finished waist. Using her tips, I made skirts for my daughters.
I love the flat front of the waist band. As Larissa suggested, I cut the placket 4" wide, and interfaced the front.
I didn't have wide enough elastic to fill the back, and so I sewed small channels and threaded two different elastics through.
For Baby's, the elastic was wide enough, but I stretched the casing and stitched through the center to reduce the bulkiness. I did end up reducing the elastic by about 1 inch for both my girls. I guess they have skinny backs!
One big change, instead of a ribbon hem or a tuck, I added a fabric placket. With Baby's skirt I decided to be fancy and add a little yellow piping.
The skirt is simple, basically a tube cut from selvage to selvage...I had to shorten Baby's a little bit because the fabric was wider than 44".
Following the Lazy Day's skirt directions, you sew the placket to the edge of the skirt, and then fold it up so it is on the front of the skirt. I then edge stitched the placket on the skirt's edge, and then carefully ironed and pinned the placket and edge stitched the top of the placket to the skirt.
I tried to match the seams as close as possible.
Like most things lately, I made this more difficult then it had to be, but I'm really happy with how they turned out. The skirt for Big Sis matches several tops, and will be great for school or church. Baby's...I just really liked those colors together! I will probably make her a top to match, besides the obvious white t shirt.
There's lots going on around here.
Sewing 101
comes back on Saturday, I am a contestant for
One Month to Win It Season 2
, and the Sew Along is on the horizon. I also have a new sponsor I can't wait to tell you about!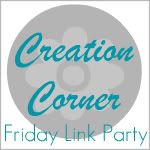 Linked to
Keeping It Simple