I love this guy. I'm not big into Halloween, but this skeleton is based on a decoration my mama made when I was a little girl. I recall hanging the skeleton up and getting excited about trick or treating as a child. When my oldest boy was 2, I called my mom to ask her how she made her skeleton. She sent me a copy of the magazine photo that inspired her, and the paper plates to make him. This was all back in our very poor college days!
Since then, we've had this skeleton. My kids love him, and were so excited to see him when I pulled out our fall decorations. I thought he might be a simple and easy decoration you could whip together, with stuff you probably have on hand. So, I'm sharing my version of this fun activity. My little boy and I made a smaller version together so we could show you how to do it. Making this paper skeleton is a fun and easy activity you can do with your kids, and have memories for years to come.
You will need:
18 white paper plates, the cheap kind with fluted edges.
Templates, which you can find HERE
Pencil, Permanent Marker, and Scissors
Paper hole punch
Jute for tying everything together.
Step One
. Trace all your pieces onto the paper plates. Using your templates, trace 10 bones, and then one of each head, shoulders, ribs, and hips. For the hands and feet, use your own. It makes the project a little more personal.
Step two
. Cut all your pieces out.
You should have one head, one shoulder/neck piece, one rib piece, one hip, two hands, two feet, and 10 long bones for arms and legs.
Don't forget your skeleton's face. This gives him a little personality.
Step three. Punch holes for joining.
Step four
. Cut out approximately 4" pieces of jute, and tie your joints together. I used a square knot.
Using this photo as a guide, tie all the pieces together. You might want to sing along as you go. "The head bone's connected to the neck bone..."
Keep tying, until he's all put together.
Now he's ready to hang on a wall and bring a smile to your child's face.
Thank you,
Christie
, for reminding me how much fun it is to do crafty things together.
Featured on
Craft Gossip
,
Be Different...Act Normal
, and
One Pretty Thing
!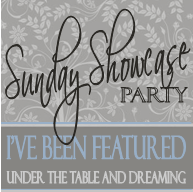 Linking with
Somewhat Simple
,
A Few of My Favorite Things
,
Fave Crafts Blog Hop
,
Creation Corner
, and
Kojo Designs
, and
Just a Girl
, and
Today's Creative Blog
.