Just before we moved, we harvested what was left in our garden. We had baskets full of corn, more than we could eat at dinner.
Corn is fairly easy to preserve. Get a pot of water boiling while you pick. Shuck the corn and remove all the silk you can. Then add the corn to the boiling water, and leave in for only four minutes.
My lens got steamed up a bit.
Quickly remove the corn and place in an ice water bath to stop the cooking process.
Once cool, carefully cut the kernels from the cob, being careful to only remove the top 2/3 of the kernel.
Place in freezer bags. Fill the bags about half-full. Remove all the air you can, and seal. Label your bags, and then place in your freezer until you're ready to use it. I love my flexible cutting board, it also works as a funnel of sorts.
I'm so glad we had some small part of our garden to bring with us.
Featured on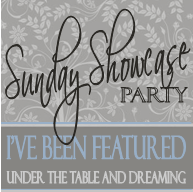 Linking up to:
Creation Corner
,
Be Different Act Normal
, and
Under the Table and Dreaming
.